SIGN UP IN THE BAR FOR EXCLUSIVE DISCOUNTS!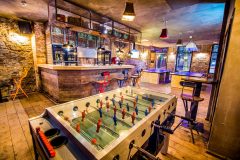 The membership gives you exclusive access to a room full of games & a bar full of beers.
You will get access to the following games:
Ping pong
Basketball hoops
Pool
Retro arcade games
Beer pong
Pinball
Football
AND… all the offers below!
FANCY ALL THIS? Well, you can get it… For just £5 a YEAR!
(Or around 10p a week…)
Check out our current offers here